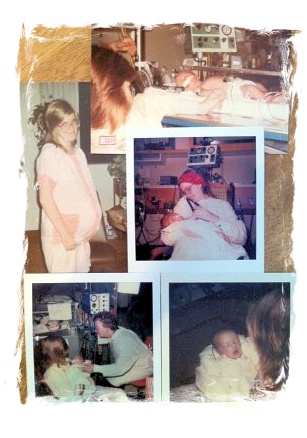 One in four pregnancies result in a loss of some type which means nearly a million babies in the United States alone are lost.  If you haven't experienced a loss, it's very likely that you know someone who has.   As widespread as pregnancy/infant loss is, it's a very misunderstood experience and frequently swept under the rug.  Baby loss parents often feel very alone, even shunned.   I know I did, and I know many parents who have felt the same way.
Since October is National Pregnancy and Infant Loss Awareness Month in the United States, and October 15 is Pregnancy and Infant Loss Remembrance Day in several countries, it's the perfect time to focus on awareness for both baby loss parents and their friends/family.
Why is pregnancy/infant loss ignored?    
As a culture, we tend to compare ourselves with others (and compare our friends with other friends), and this, unfortunately, includes grief.  Most people have a ranking list somewhere in their heads of what the worst possible loss would be for them, followed by the next worst loss, etc, until they get to the bottom of their list.  This is their hierarchy of loss list, and everyone's list is different.  The lower a loss is placed, the more a loss is minimized.
With pregnancy/infant loss, many people rank their lists by how far along the pregnancy was when it ended.  The further along a pregnancy was, the higher the loss is placed in the hierarchy.   Early miscarriages are then seen as an unfortunate experience to be forgotten as soon as the bleeding stops.
The perception of these types of losses is further diminished by the simple fact that no one else but the parents knew this little person.   We grieve because we love, and it doesn't matter to us how old a person was (or how far along a pregnancy was).  However, for friends and family to make sense of the loss, they try to lessen the loss by lessening the attachment (and love).  Unfortunately, the ways of trying to do that are often the most hurtful.
When a baby loss parent hears . . .
You should be over it by now (even if it's only been a few weeks)
What's the drama?  It's been XX years or "it" was just a mass of cells
At least she wasn't 5 or 15 or (fill in the blank).  That would be worse.  You didn't have time to get to know her.
Maybe you weren't meant to be a mother.
You wouldn't want a defective child.
You're young; you have plenty of time to have another baby.
He was incomplete.  What's there to grieve?
You have three healthy children.  You have to move on for them and stop feeling so bad.
When are you going to stop grieving for a baby?  You're ruining Christmas for everyone.
Everything happens for a reason.  Accept it and move on.
It was for the best.
I know how you feel.  My dog/cat just died.
You need to get back to the happy person you were before.
God is punishing you for your sins.
Next pregnancy, don't exercise so much.
Your baby died because you're vegetarian and you starved him to death.
At least you know you can get pregnant.
.  .  .  when a parent hears these comments, s/he feels SHAME.  These comments imply that they're grieving incorrectly, that they're broken  .  . .
I really don't think anyone truly wants to hurt a bereaved parent, and most of these shaming comments are meant with good intentions.  My mother said some of the MOST hurtful things to me after my losses, and I know she never intended to inflict more pain.  She wanted to help and didn't know how.  Nevertheless, her comments HURT as do all of these comments no matter how well intentioned they are.   By the way, all of those comments above are real comments said to real baby loss parents.  And they are all incredibly hurtful!
So, before you say something to a baby loss parent (and yes, they are still parents even if they do not have living children!), stop for a bit.  Take a deep breath and really listen to what the parent may – or may not – be saying.  Note their body language.  It could be that the only thing needed at that moment is a hug, some physical contact with someone who isn't judging or proffering advice.  Listen with your heart and put aside what you think you know about baby loss, grief, and the grieving parent.  Meet them where they are at, not where you are at.
Please remember this . . . a baby loss parent doesn't want you to fix them.  They aren't broken, and there's nothing for you to fix.  Please don't try.  They are grieving, and that is a normal reaction to losing someone you love.
Some of the BEST things to say:
I'm sorry.
I don't know.   Or, I don't know what to say.
I love you.
Talk about the baby by his/her name.
I love this bit of advice from a baby loss parent – keep it simple.
Just be there.  Just listen.  Just love.
Some of the WORST things to say:
 Anything that starts with AT LEAST.  That little phrase negates a grieving person's feelings no matter what you say after at least.  Strike it from your vocabulary!
Anything that sounds like a comparison whether it's to your own experiences or someone else's.  You will NOT make a baby loss parent feel better by telling them about your friend who lost a baby in what you think is a more horrific way.
Anything religious unless the baby loss parent is deeply religious.  Please keep your religious views to yourself.  Let the baby loss parent lead the way in this area!
Anything that suggests how the baby loss parent should feel.  You aren't walking in their shoes and you really don't have a clue how they "should" feel.  Telling them to move on or cheer up, etc. is so incredibly hurtful and not a bit helpful.
Some of the worst things to do:
Avoidance – either avoiding the bereaved parent or avoiding talking about the baby.
 Don't ask how they're doing if you really don't want to hear the truth.
Don't try to explain the loss or how they should be feeling.
As I mentioned before, we grieve because we love and that love doesn't die when the baby dies.  Bereaved parents need permission to grieve.  You can offer that in such a loving way.  When grief is acknowledged and accepted, the bereaved can learn to live wholeheartedly again.  And what bereaved parents need most is compassionate community – not shame, judgment, criticism, and shunning.   They need your love and understanding.
To learn more about supporting a grieving parent, particularly a baby loss parent, please visit these resources:
Written in memory of my babies Andrew John, Mark Adam, M.J., Summer Rose, and David Gregory.  We will forever feel your presence and love you always. ♥