Right after Christmas, my local Barnes & Noble ditches the Christmas stuff and puts up a big display of diet books.  I know most stores and magazines do this since so many people start off the New Year wanting to lose weight.  The irony is this display always sits next to the Valentine's display (you do want to lose all that weight to look sexy by Valentine's right?) and includes lots of their Godiva chocolate gift boxes.  Starve yourself with diets but be sure to buy the chocolate to soothe yourself when you throw the worthless diet book away.
Now that it's March, the display has moved to another part of the store (but still close to the front) and the sign reads "Diet and Nutrition" but there is NO book in the display that concerns itself with nutrition.  Not. One.
Why is our society so bent on eating everything it wants and then trying insane diets to lose weight?  I'm not pointing fingers.  Until I lost 55 pounds in my chronic illness of 2012, I was a yo-yo dieter.  I was thin in my teens until 35.  Then yo-yo'd for 15+ years.  I can trace my body image issues back to two major things.  The one I want to address today is  my mom's persistent criticisms of my appearance.
My mother seemed to find fault with my appearance for most of my life.  She used to take great delight in telling me that my old aunties came to the house when I was a baby just to see my gigantic thighs.  The first bra she bought me was a padded one because, surely, I must be disappointed in my size.  I didn't know what cellulite was until she pointed it out on my butt and thighs when I was 16 (I was 5'5″ and 110 pounds so how much cellulite could have been there???).  My dad nicknamed me Grace (because he found me clumsy) and my mom said I was as dainty as an elephant.  The adjective I heard the most often was PLAIN.  I was just simply plain.  Your average Mary, the band geek.
It's true I was a late bloomer.  My husband wouldn't have looked twice at me in high school but by 24, he noticed.  He says it was my confidence that attracted him more than anything.  I was supporting myself through some difficult experiences and that awareness that comes from knowing you're strong enough to survive, take care of yourself and make it in this world was an energy he picked up on.  My mom used to tell me I better "keep myself up" or my husband would dump me.  It's been 28 years and we're still together.
Mom didn't know everything.  Sometimes I think she knew absolutely nothing about me.  I know lots of daughters feel that way about their mothers.  And truly, how much do we really know about them?  What made her criticize her only (and beloved) daughter so much?  I KNOW she loved me.  I could put on my psychologist hat and give you a litany of reasons why she did this.  The bottom line is, it doesn't matter what her reasons were.  What matters is how I view myself.
I struggled to let go of the crappy stories she filled my brain with, and I finally realized, ironically in the middle of a yoga class, that those gigantic legs are the two parts of my body that have NEVER let me down.  They are amazing with what they put up with!  And guess what?  I AM beautiful.  Perhaps not in the way my mom (or Hollywood) would define beauty, but really, as I said before,  it's not her (their) story that matters.  It's MY stories that matter for ME and I can rewrite the bullshit ones.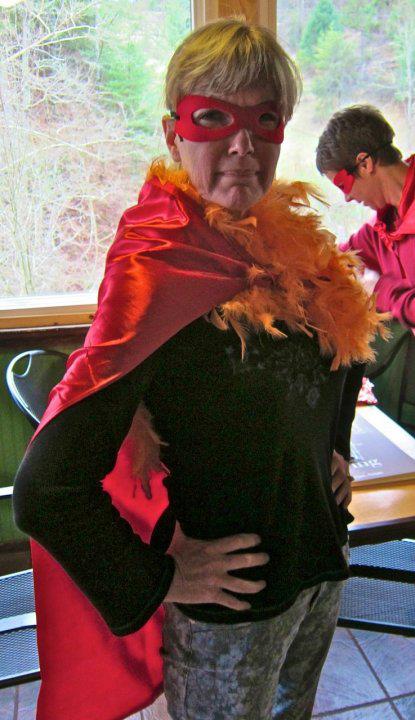 So a big BOO HOO to those of us who had mothers that criticized.  Want revenge?  Be you, in all your glory, in your own unique brand of beauty.  To hell with magazines that advertise the latest diet craze on their photoshopped covers next to headlines about cookie recipes.  Walk right on by the Barnes & Noble diet book displays and the glam magazines.  Celebrate YOUR curves or your angles or your lines – whatever you've got.  Let's dump the comparison monster and stop judging people for how they look, especially ourselves!
Yeah, I've got my own brand of beauty.  And so do you.  It's called uniqueness.  We're all unique.  Vive la difference!  My brand celebrates my weirdness; my ability to be big and small, quiet and loud, radiant and dark, all at the same time.  Plain?  Only when I want to be 😉
So go write your own stories.  Show the world your own unique brand of beauty.