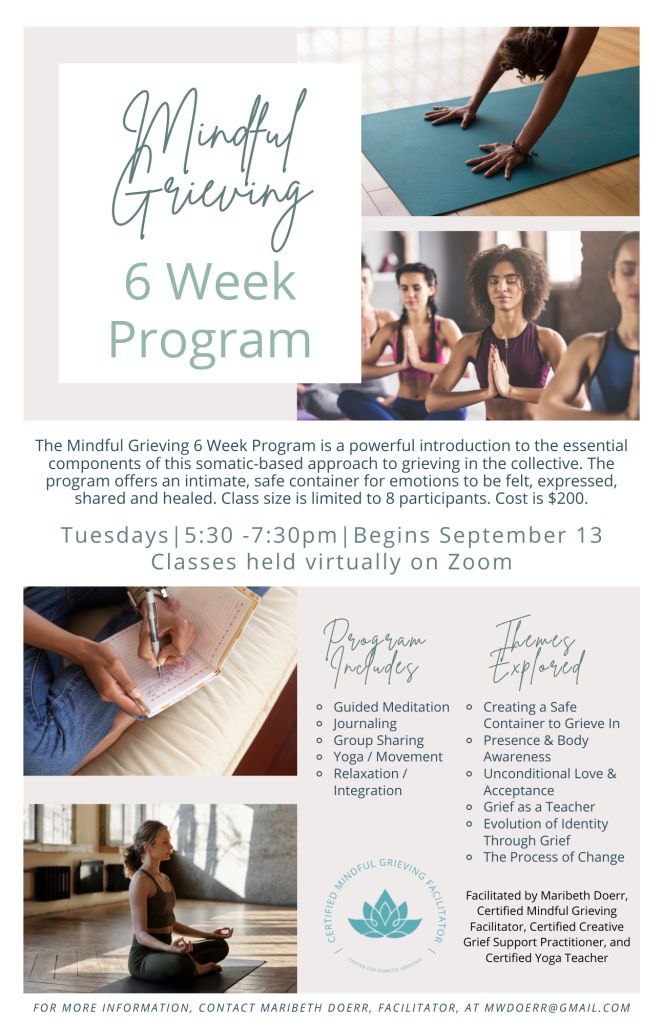 Awakening Through Grief 6 Week Mindful Grieving
The Mindful Grieving 6 week program is a powerful introduction to the essential components of a somatic-based approach to grieving. Participants will have an opportunity to look within and access their resiliency and inner wisdom.
Each weekly 2 hour class will be offered over ZOOM for increased accessibility. Class size is limited to 8 so each participant has an opportunity to be seen and heard.
Throughout the 6 weeks, we will explore the following themes:
Creating a Safe Container for Grieving
Presence & Body Awareness
Unconditional Love & Acceptance
Grief as a Teacher
Evolution of Identity Through Grief
The Process of Change
Each week, we will meet for 2 hours and use the following tools to support us in our self-inquiry:
Guided Meditation
Journaling
Group Sharing
Yoga
Relaxation / Integration
NEXT starting date for this program is September 13 at 5:30pm PDT. To express interest, please contact me at mwdoerr at gmail.com.
From Grief to Gratitude 6 Month Yoga Therapy Program
NEXT DATES for this program TBA. Please check back or contact me with interest or inquiries.